The Housing Bureau of Hansang 2022 is pleased to offer a hotel reservation service for all the participants of Hansang 2022. Below official hotels were selected after careful consideration of several factors; particular security, moderate price, convenient traffic situation, and etc.
All participants are provided with special rates that have been arranged by official Housing Bureau. Please arrange your hotel reservation by filling out the hotel reservation form and send it back to us. Feel free to contact us with any inquiries regarding hotel reservation.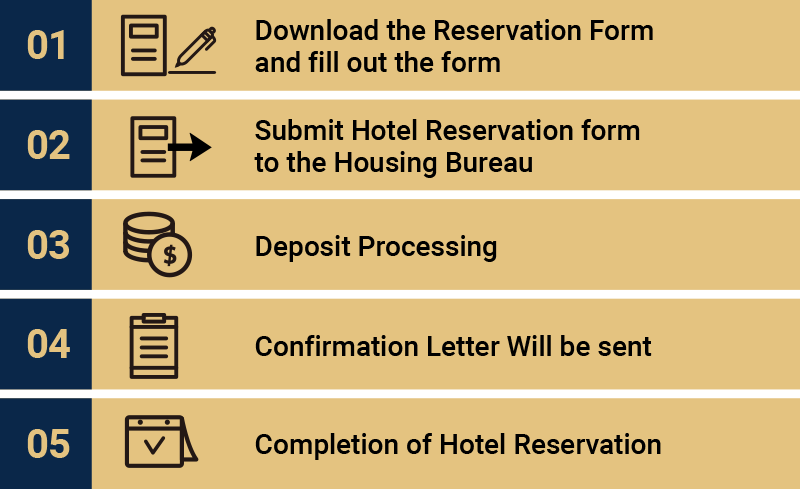 Hotel Reservation Form
(Download)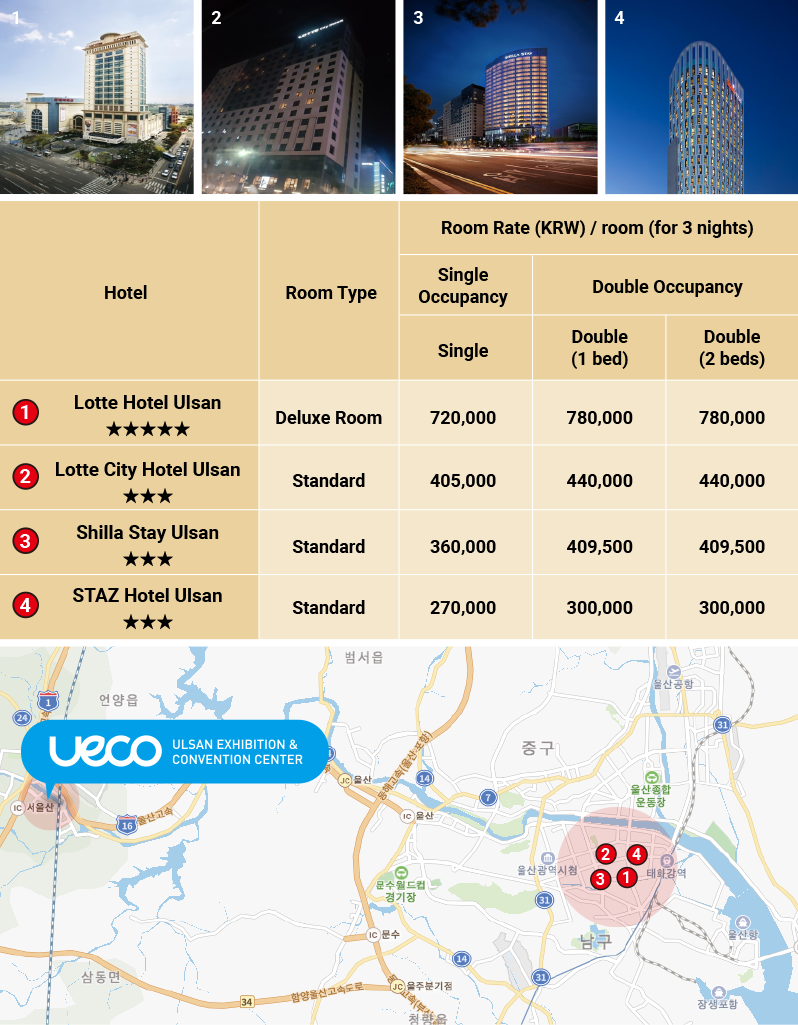 General Information
Reservation Deadline: 09 Oct, 2022, GMT +9hours. Any reservations made after 09 Oct, will be subject to room availability and cannot be guaranteed at the discounted rate.
All room bookings will be processed on a first-come, first-served basis.
Please carefully read the cancellation and refund policies below prior to making a reservation.
The Housing Bureau will no longer assign roommates for any attendees.
Check-in is from 15:00 and Check-out by 11:00.
Early check-in (before 15:00) & late check-out (after 11:00) cannot be guaranteed and extra charge will be applied.
Payment Information
Breakfast is included in the room rate; other expenses such as additional breakfast, mini-bar, laundry service and etc. will be charged on the guest's personal bill and it should be paid to the hotel when the guest checks out.
Please carefully read the cancellation and refund policies below prior to making a reservation.
To secure the room reservation, total room rate should be paid within one week after making the reservation with credit card or bank transfer.
Confirmation letter will be e‑mailed when the payment is completed.
All bank service charges are to be paid by registrants.
Payment receipt will be issued by the Housing Bureau upon your request.
Cancellation & Refund Policy
Any changes or cancellation must be informed in writing to the Housing Bureau by e-mail or fax, NOT directly to the hotel.
All dates are based on Korean Standard Time (GMT +9hours).
Refund will be processed after the conference according to the following policy and all processing fees such as bank charges and etc. will be deducted from the reimbursement.
Full payment will be refundable before 09 October 2022.
No-show or early departure will not be refundable from 10 October 2022.
*No-shows: No check-in without any notice in advance; In case of No-show, the room will be on hold for 24 hours(1 night) only, after which the room is non-refundable and will be released.
[The Housing Bureau of Hansang 2022] 
Premium Pass International Co., Ltd.
Tel: +82-2-6951-5366  Fax: +82-2-2063-3542  E-mail: tourism@tothepp.com
Address: Unit. 501, Bldg. A, 22 Magokjungang 4-ro, Gangseo-gu, Seoul, Republic of Korea